Hey.
I'm seriously overdue on my blog schedule, sorry about that. I'll try to post more frequently, lately I've not had much material to blog about.
As any regular reader will probably gleam by my lack of presence, with regards the new Wasted Youth game, things feel increasingly troubled and depressing right now.
As ever, the list of things to do increases faster than I can progress, and it feels like I've been running on the spot for the best part of a season.
I hate to go on about the negatives in the blog as so often when I read it back to myself it reads like a dreary letter of complaint to myself. I'll try not to focus on the negatives, but unfortunately, that's largely the headspace I'm in at this moment.
Another reason I've felt a little shy of returning recently is that I keep flip-flopping on my approach to things and I'm a little embarrassed to keep flaunting my haphazardness.
For instance, my last post largely was about some of the game-editing tools I was creating for basic room creation, I showed a few pictures and explained their functions.
On reading that you might have rightly asked 'why are you creating tools like that when I've seen pictures of fully furnished rooms from months ago?'
I sort of addressed that in the post with a fairly nonsensical argument… but soon afterwards I realised I was once again making a lot of unnecessary work for myself for very little payoff.
This is just a habit of mine which I've stated many times in the past. Ever since WYP1, my tendency has been to create overly-complicated systems, convincing myself they'll ultimately save time in the long-run.
Over-engineering is not usually a bad thing, but unfortunately I don't have the liberty to this when confronted with so much work to do with so little time.
My inability to make decisions with a timeplan in mind, or to follow a timeplan for that matter, is perhaps the real problem I should focus on fixing.
So for now, I'm trying a messier approach, saying fuck-it to neatness or grace and just trying to get it done.
Thinking back to WYP1, much of my time felt wasted (no-pun-intended) on repetitive tasks that were easily avoidable with a management system, but it seems increasingly so that the time it would take to create and maintain a management-system would take significantly longer than the original approach.
So often I was changing the dimensions of rooms slightly, which would mean having to change the dimensions of 2 or 3 other adjacent rooms, and lots of little things like that.
In Flash this was relatively easy, but still it was a massive time-sink and a total bore measuring things out precisely, preserving the grid-like structure of the rooms.
With that in mind, I've returned to my 3D editor with a more final approach in mind.
While I had most of the rooms mapped out, it was far from a finished picture, so I've spent some time significantly reshaping parts and finalizing designs.
Unfortunately I didn't have time to integrate it into the main project, so the more ancillary objects and textures are not displayed, so for now you'll be treated to varying shades of grey (you'll no doubt be familiar with this exciting colour pallette from previous posts).
It's probably best to think of these as blueprints.
Or greyprints.
The nook where you'll find the hopscotch markings and the cellar door

(Left) The assembly room (Right) The sports field and changing rooms

The main entrance, sans water fountain

Behind the main building

A view from a balcony on the main building of the dorimtory

The new staff building, west of the dormitory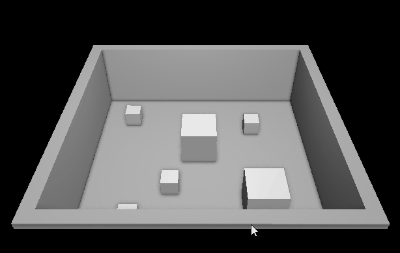 Something like that
I'm still not entirely sold on the idea, but I've decided it's best to have a free camera, by which I mean fully controllable (rotatable and to some degree zoomable).
While I'd be happier with a more static camera, in-keeping with the original style, it's become very apparent now how restraining it is. Some areas would be so fully obscured by any of my other camera alignments, it's become a necessity I think.
Also, as shown in the example gif, I've decided a slightly different way of isolating rooms, whereby everything below the lip of the exterior facing wall is black, as though the room were a vessel submerged in a vat of crude oil.
I haven't tested it yet, but I'm hoping I can transition between these interiors without having to do a dirty silhouette fade as in the original game.
As you can tell by the pictures above, the environment is not very large in the grand scheme of things, it's vital that it feels as free and fluid as possible.
Loading screens or anything that spoils that immersive quality is something I'll try to to avoid at all costs.
I'll have more to show in a couple weeks, and hopefully will have a fuller, more vibrant map too.
If you have any suggestions or issues to anything I've outlined, feel free to leave a comment.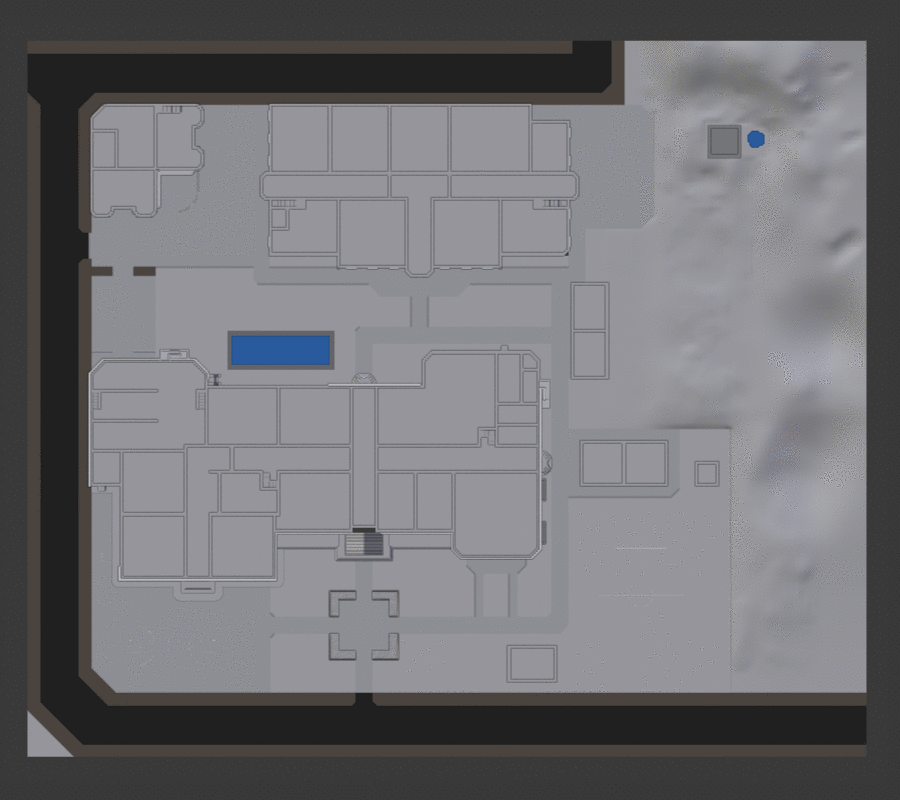 ---