The Flood Runner 2 is just a score attack game, plain and simple. There are no levels, just you and the tsunami behind you, destroying everything in its path.
No matter how fast you run, it'll always be right behind, lapping at your heels, just waiting to suck you into its merciless depths and squeeze the life from your lungs.
Keeping that in mind, the game is really good fun.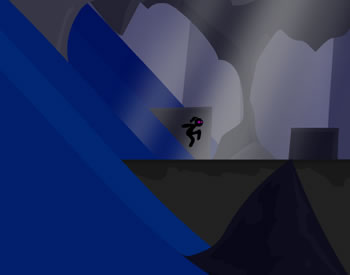 Just try not to think of all those drowning anthropomorphic bunnies and kitties.
The gameplay is very simple and the controls even more so. Click your mouse to jump. That's it.
But there are three different styles of jumping. A light tap will make you do a short hop, holding down left click or doing a delayed double click will make you do a double jump, and clicking while you're coming down will make you glide for a limited distance.
Score attack games succeed or fail by how addictive they are, and this does a pretty good job. At first the controls feel a little sloppy but once you're used to them you realise they're perfectly fine for what you need to do. There aren't any really unfair deaths, though if you get to the highest part of the level it's tricky to judge whether there are any platforms below you. Here's where gliding comes in handy.
Plus, if you fall into the flood you get a one-time-only lifesaver in the form of a surfboard, a grappling hook and a slow-motion camera.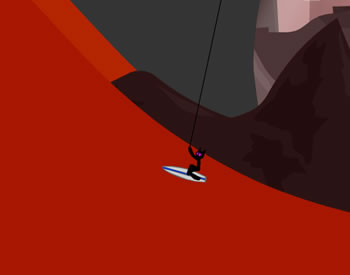 I'd say this was totally radical if only that phrase wasn't so hopelessly outdated.
Of course, gliding and surfboards on their own won't cut it. To boost your score, you'll need to collect the gems dotted about the area. These will either give you a bunch of points or, more importantly, increase your ever-depleting score multiplier, up to a maximum of 25.
There are also ramps to launch yourself off, which often put you in the path of these juicy gems, and springs, which usually don't (but do get you up nice and high).
Hazards (as if the giant wave behind you wasn't enough) include collapsing platforms, slippery oil and rocks that knock you down.
All of this gives the game variety enough to keep you interested.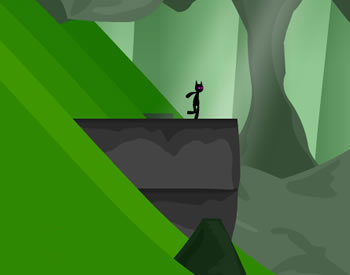 See how long you can keep running before your inevitable watery death!: The Flood Runner 2
Written by: Richard Wilson
Please do not copy this review without crediting the writer and this website.
Thank you.