It's difficult to do stealth right in videogames.
The best example of stealth in games is, of course, the Metal Gear Solid series. I can't comment on any other entirely stealth focused games because, well, I haven't played any, but there are other standout examples such as Batman Arkham Asylum.
For the most part though, stealth is used as a sidequest element and it's normally horribly executed.
It usually takes one of two forms:
1: You have to stay out of people's sight or it's instantly game over, no chance to even fight back.
2: You should really stay out of sight but you're armed to the teeth so you can easily just blast through them anyway, without penalty.
There are often impediments that are down to bad game design: sloppy controls, a horrible camera: all these serve to make the stealth element in games hated almost as much as escort missions.
So how does this fare: a flash game based entirely around stealth?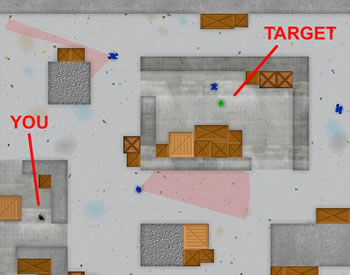 Let the adventure begin!
The basic game idea copies a lot of elements from the Metal Gear series. In fact, you're basically playing a coloured-in version of the mini map that you get in number one and two.
The enemies line of sight is indicated by a big red cone (they're dressed in blue as well, which suggests they are evil clones of Cyclops from the X Men). Their eyebeams makes your job much easier – but it's still tricky.
Your mission is to kill the guy in green. It doesn't explain why you have to do this, so make up your own reason and have fun. Bully at school, your boss – whatever you like really.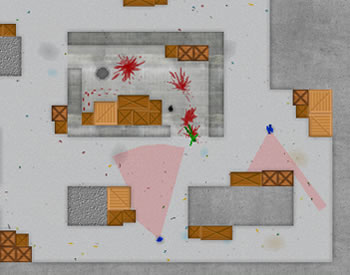 Ha! Take that, annoying guy I had to stand behind in the bus queue!
You can also make footprint trails in his blood, though the guards won't follow it.
If you get seen, you'll soon get shot up. Luckily, you can take one or two minor hits and there's plenty of hiding places (though the guards will search for you).
They also suffer from the restricted vision syndrome present in so many stealth games – you can be right in front of them but if you're far enough ahead they won't see you. However, they will see you if you're right next to them, so don't trust the red cone completely.
You also have super powers, but unlike the guards' eyebeams these actually come in useful.
You have a speed boost to get you out of tricky spots and you can go invisible if you're in an area where you can't avoid being seen. These powers run out of juice quickly though, so be careful.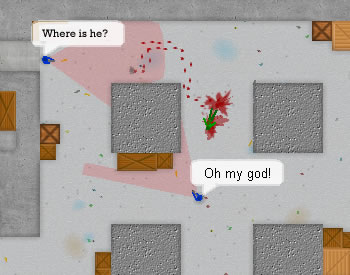 There's nothing worse than becoming visible right in front of someone.
If you get seen or if the guards find the dead target, there will be an "alarm" screen for a few moments as in Metal Gear. After the target has been dead for a while, the exit will appear. You can't just run in guns blazing (or in this case, knife slashing) because you may end up trapped between guards and you can't complete the level in the "alarm" state.
This is a decent little game. Sure, it wears its influences on its sleeve, but it's based on the best stealth game there is.
Some complain about the fact you can't kill the guards, but that would make it too easy. Granted, it does get annoying on later levels when there's loads of them about: they move in a random pattern and sometimes there's nothing you can do but wait.
But it does exactly what it sets out to do and comes out pretty well. The stealth is well done and that's all you can ask for really. Shame there isn't a plot, but hey, you can make that up as you're going along if you're so inclined.
And don't play the first game – it's basically the same as this but not as well executed.
Stab a green guy today: Ultimate Assassin 2
Written by: Richard Wilson
Please do not copy this review without crediting the writer and this website.
Thank you.