The titular hero of this violent little game has a passing resemblance to Squirtle off Pokemon, which makes it a hell of a lot more fun to bash the crap out of him.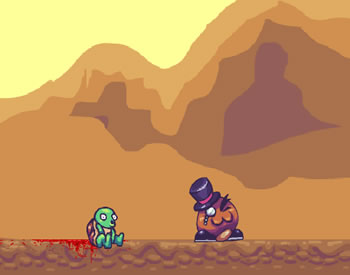 Cute fellow, ain't he?
The alliterative title doesn't quite sum up the game, but "shoot the turtle out of a massive cannon" didn't have quite the same ring to it. The aim is to send your turtle flying through the air and do everything you can to keep him travelling forward. When he finally comes to rest, you get cash bonuses for distance and other achievements. You can then use this cash to buy new stuff to torture your turtle in totally terrific new ways.
There are already a lot of games such as this one. The first one I heard of was Kitten Cannon, where you blasted a cute kitty through the air and crossed your fingers to see how far it would travel. In a lot of these games, once you have fired there is nothing else you can do.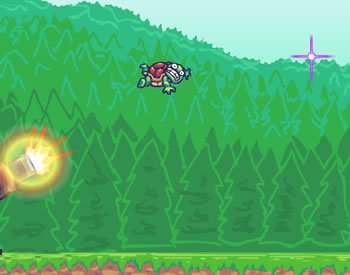 BANZAI!
This game does everything it can to remove the random element (although the obstacles you face still appear randomly).
The main thing it does is to give you some small control over the turtle's movement in the air. This gives you a chance to dodge the spikes and UFOs in your path, avoiding an instant game over. It also gives you the chance to hit some of the more useful items, eliminating the annoyance of seeing a vital pick-up sail by within inches (unless you're crap at controlling your turtle, of course).
As your turtle is sailing helplessly towards the hard ground, there are a number of obstacles in the way that can slow him down, speed him up or give him extra height. These include bombs, goombas, birds and machine guns. Luckily your turtle can soak up damage like a sponge, so there's no worry of him suffering a violent death mid-flight. Unless he lands on spikes.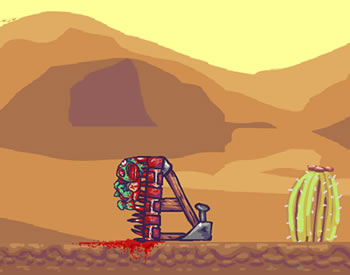 Ouch. Oh wait, he's still twitching! Ah, he'll be fine. Nothing a dose of Calpol won't fix.
Another way to keep the turtle in the air is by shooting him. Depending on the power of your gun, a well-placed bullet will either keep him hovering in mid-air or send him rocketing into the sky by some fluke of physics. There are plenty of guns available in the shop, as well as better cannons, rocket packs to give a little extra boost, a chest bomb that explodes when you stop (effectively giving you an extra life) and a stockpile of nuclear bombs to keep your turtle flying. And there was me thinking only the cockroaches would survive when the bomb fell.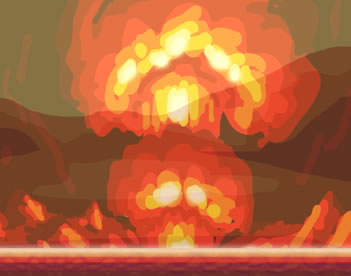 There's not even any hint of mutation or long-term illnesses. Truly a hardy turtle.
This game will steal a few hours of your life but it is incredibly good fun. In taking out many of the random elements that can frustrate in other games of this type, the skill involved in tossing your turtle across huge distances should keep you coming back for more.
Having said that, there are still unavoidable deaths aplenty and the UFOs are particularly annoying in this regard.
But the graphics are good, the gameplay is sound and there are several nice little touches hidden throughout.
And the game maker says the turtle actually enjoys being put through this torture time and time again, so in fact you're doing him a favour.
Go on, give a toss: Toss the Turtle
Written by: Richard Wilson
Please do not copy this review without crediting the writer and this website.
Thank you.